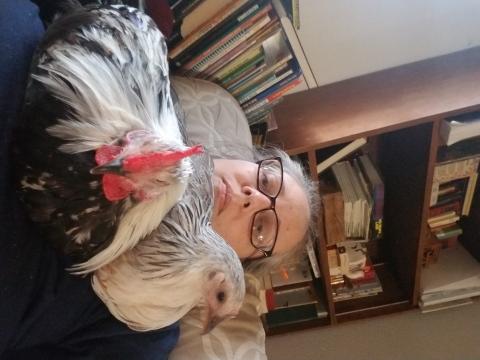 Full Name
Chris Farnsworth
Volunteer Background
I have a small 9 acre volcanic clay base farm in Oregon. I raise poultry, goats sheep dogs, cattle and plants.I enjoy gardening and trying new plants in our zone(8)
Favorite Crops & Least Favorite Crops
I do well with succulents and other water saving plants.Fruit and nut trees do well here. Native plants also do quite well, and I especially enjoy raising different fruits. We have a number of ornamentals that do quite well in the flower beds, again the ones requiring less water do well.

I do not like corn or other water hungry plants as we do not have an irrigation well. The pasture is mostly orchard grass blend with clover.
Growing Experience
Growing food
Starting seeds
Growing perennials
Hand pollination
Seed-saving
Plant breeding
Other
Space Available
Small field (10,001 sq. ft. - 1 acre)
Soil Details
silty clay with a large swath of volcanic basalt that only has about 6 inches of clay loam on top. Average acidity is around 6 at the top of the hill and 5.5 at the bottom. we're at 300is feet elevation
Growing Location Descriptors
Neighbors' Crops (within 1/4 mile)
mostly Christmas trees, oats, hay, and there's an ornamental nursery at the end of the road
Neighbors' crops (within 1 mile)
perrenial rye(grasseed), hazelnuts , dairy and beef cows
Possible GMOs in the neighborhood...
Details
I'm assuming most of the nurseries and farms are using commercial seed.None are posted as organic at any rate. Additionally every neighbor has a garden, and again I'm assuming commercially available seed since no one is bragging about heirlooms, GMOs free or organic.
Other relevant information
gophers, deer,rabbits and western pine beetles