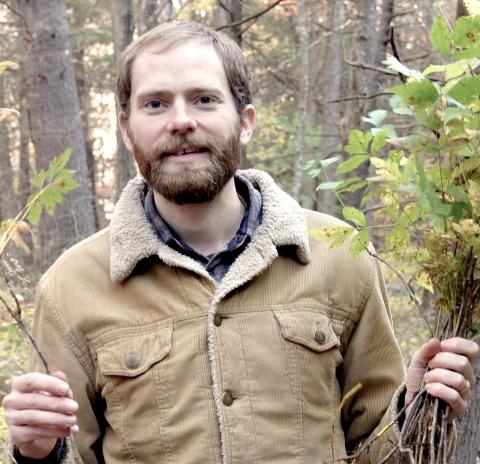 Bio
Ryan Huish is currently at The University of Virginia's College at Wise and has taught Plant Biology, Ethnobotany, Medicinal Plants, Local Flora, Conservation Biology, Ecology, Plants of Virginia, Appalachia: People, Place, and Plants, and Plants in Poetry and Art. He received his Bachelor of Science degree from Brigham Young University studying botany and cultural anthropology, and received his Masters and Ph.D. degrees in Plant Sciences at the City University of New York and The New York Botanical Garden.

With a background in botany and cultural anthropology, he is fascinated with how historic and modern peoples around the world use plants for food, medicine, art, music, and metaphor. He is also interested in studying the commodification and conservation of these plants. His research interests incorporate an interdisciplinary approach to address basic and applied questions in ethnobotany, ecology, and plant conservation. Some current research projects he is involved with include Tongan medical ethnobotany, community-mediated conservation of sandalwood, the conservation of several rare Appalachian plants including piratebush and smooth coneflower, Industrial hemp, sudden oak death, and the effects of climate change on sugar maple products and the corresponding socio-economic responses.
Mailing Address
Appalachian Cove Forest Farm and Homestead
2857 Cox Chapel Rd.
Duffield, VA 24244
United States
Educational Background
Ph.D. Plant Science, B.S. Botany and Socio-cultural Anthropology
Volunteer Background
I live on a 60 acre forest-farm and homestead in Southwest Virginia (Zone 6b) with my family. My research background that relates to EFN includes industrial hemp and oaks (preventing the "sudden oak death" disease in eastern North America, and trying to preserve oak genetics (thinking of what we wish we would have done before the American chestnut blight). I have plenty of other interests in other food crops though and are growing some of them.
Favorite Crops & Least Favorite Crops
What we grow: Pawpaw (Asimina triloba), persimmon (Diospiros americana), serviceberry (Amelanchier spp.), wood nettles (Laportea canadensis), ostrich fern (Matteuccia struthiopteris), Jerusalem artichoke (Helianthus tuberosus), Aronia (Aronia melanocarpa), black currant (Ribes nigrum), elderberry (Sambucus canadensis), ramps (Allium tricoccum), and hopniss (Apios americana) (I believe we have a remnant population of Native American-cultivated hopniss; we live in a small valley, arrowheads have been dug up on our property, we have the perfect habitat for hopniss, the tubers are sizeable (old improved cultivar?), and they are very common in our lowlands...) I am making clones of a superior box elder (Acer negundo) that has sweeter sap and higher sap production than the other sugar maples in the area (for maple syrup production). It is male, so it shouldn't produce so many seeds that it becomes "weedy". Box elders grow faster than sugar maples and are more resilient to climate change. We also have various heritage corn and apples, Appalachian woodland medicinal plants, many veggies (including kale, chickweed, potatoes, tomatoes, etc...), and lots of other plants not listed here. We would like to experiment with maypops (Passiflora incarnata) and other plants, especially eastern North American native plants.
Growing Experience
Growing food
Starting seeds
Growing perennials
Hand pollination
Seed-saving
Plant breeding
Other
Time Commitment
0-2 hours
Space Available
Big field (1 - 5 acre)
Soil Details
Berks-Westmoreland complex, 55 to 70 percent slopes, Carbo-Rock outcrop complex, 25 to 65 percent slopes, Holly loam, 0 to 3 percent slopes, occasionally flooded, Watahala gravelly silt loam, 25 to 35 percent slopes, Wyrick-Marbie silt loams, 8 to 15 percent slopes
Growing Location Descriptors
Neighbors' Crops (within 1/4 mile)
None. We have 60 acres and are within our own small valley surrounded by forests and mountains that we own.
Neighbors' crops (within 1 mile)
None.
Possible GMOs in the neighborhood...
Details
None that we are aware of.
Other relevant information
Common pests include Japanese beetles and flea beetles.
Other
Wild harvest/cultivation, forest farming, non-timber forest products