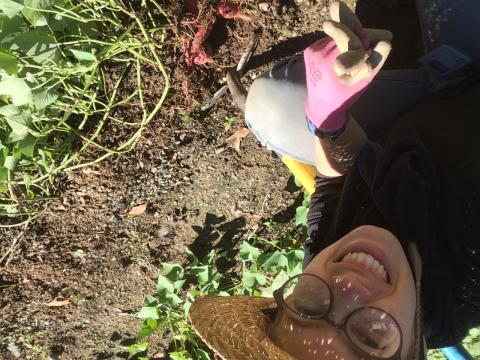 Full Name
Anna Rose Gable
Member for
2 months 4 weeks
Volunteer Background
I'm a former professional horticulturist/public gardener with a background in historic Southern food and fiber crops and a love of propagation. Now working in education and tending a backyard garden to carry me along. Recently joined the board of Princeton School Gardens Cooperative – interested in bringing EFN projects to school gardens in Princeton, NJ.
Favorite Crops & Least Favorite Crops
I do not have a ton of space right now, and most of what I have is heavy, wet clay with less than ideal sun. That said, I do ok with brassicas, nightshades, cucumbers, and legumes. May expand this year to make space for garlic and/or perennial onions. I also have a small raised bed with better soil dedicated to salad greens and compact root crops. Currently have no setup for indoor propagation, unfortunately.
Growing Experience
Growing food
Starting seeds
Growing perennials
Seed-saving
Time Commitment
0-2 hours
Space Available
A bed or two (11-40 sq. ft)
Soil Details
Damp, heavy clay. Working on incorporating organic matter, but this is only the 2nd year.
Growing Location Descriptors
Neighbors' Crops (within 1/4 mile)
Probably other backyard gardeners, couldn't say for sure what they grow.
Neighbors' crops (within 1 mile)
Probably other backyard gardeners, couldn't say for sure what they grow.
Possible GMOs in the neighborhood...
Details
Princeton University holds a good bit of land a couple miles from us. I know they grow corn but couldn't say for sure what else.
Other relevant information
Groundhogs are definitely a possibility, though we didn't have any damage last year despite no fencing whatsoever. Now have a fence around the clay plot, and privacy fence around part of yard with raised bed. Main threat likely to be bunnies. Will be around all summer, might have to move in the fall – would retain access to clay plot, but not raised bed.