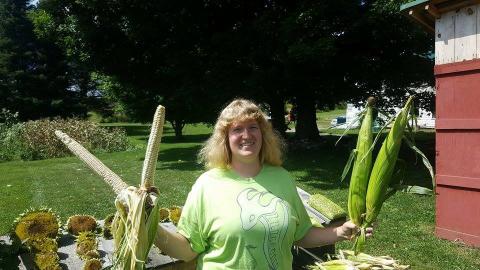 Member for
1 year 6 months
Mailing Address
1161 South Main St. Extension
Jamestown, NY 14701
United States
Educational Background
A. A. Social Science, A. S. Individual Studies concurrently '04-'06
B. A. Environmental Resources '09
An upbringing on a farm, and 11 years of solo work farming and seed-saving
Volunteer Background
A gun-toting punk-rock environmentalist hippie farmer... yeah, I know it doesn't make any sense.

I farm mostly for my own reasons and I maintain a seedbank of over 600 varieties, half of which is rare corn and beans.

I am also a long-time mushroom hunter and forager.
Favorite Crops & Least Favorite Crops
My favorite things to grow are corn and beans, especially NY/PA derived varieties or indigenous types, but I have been growing all types of vegetable crops for many years, and I also grow a number of perennials and small fruits. I have always been able to grow vegetable crops fairly well; I started for subsistence and attempted market production for several years before moving back to subsistence. Desert varieties tend to do poorly for me due to my humid/wet climate, and I've never been able to grow Spinach for whatever reason. Also, I actually hate to eat tomatoes, but I grow them anyway, to process.
Growing Experience
Growing food
Starting seeds
Growing perennials
Hand pollination
Seed-saving
Space Available
Big backyard (2501 - 10,000 sq. ft)
Soil Details
'Busti Silty Loam, 3-8 Percent Slope'.

Soil is neither very acidic nor alkaline, though we occasionally lime our hayfields over very long periods of time (a decade or more) as acid rain does have a slowly acidifying effect here.

Soil is generally decent quality and fertile. I do have a few areas on my land that are rockier, as well as a few areas that are more clay and degraded from years of intensive 'field corn' planting done by past ancestors of mine, those areas are planted to meadow grasses now and not used for cropping.

I also have a woodlot further back on my land, with available areas for planting in there.
Growing Location Descriptors
Neighbors' Crops (within 1/4 mile)
None
Neighbors' crops (within 1 mile)
Large field of yellow dent corn.
Possible GMOs in the neighborhood...
Details
I do not know any further details about the corn or even if it is positively GMO, though I am assuming it is.
Other relevant information
Extremely high deer population, however we hunt and use other typical control methods. Conditions are usually very humid, and in wet years fungal disease is prevalent (usually late blight of tomatoes and potatoes, downy mildew of cucumbers specifically, powdery mildew of squash, and white mold of beans).