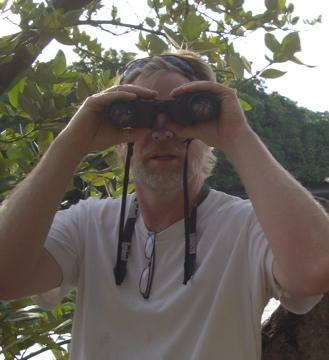 Member for
1 year 6 months
Bio
Buzz Ferver - forever preoccupied with the natural system of the planet we currently inhabit. My earliest memories are of crabapples, flowers, rocks and water. Spending my childhood collecting bugs, leaves and being lost in the woods studying plant communities further skewed my naturally twisted perspective. I continue my naturalist study daily. Totally convinced that either bacteria or fungus (or both together) actually run the show, I nonetheless work hard in human society.
It's no wonder I spend this life building soils, making less "waste" and learning more about human needs at farmstead scale, this helps me justify my addiction to fossil fuel and the absurd packaging I can't escape from yet.

In the 70's I studied horticulture and landscape design at the feet of my father and continued with my horticulture fantasy at my off-grid homestead in Worcester Vt. I have recently moved down from my flatlanders dream to an old dairy farm right on the pavement. Here I am starting up a diverse family farm specializing in nut trees, fruit trees and berries. Broadly using pre-permaculture principles to help guide my farms development, I propagate, plant and plant and plant. And make compost.

In 1975 I was a research associate in "Critical Natural Areas of Delaware", a systematic natural inventory of places that absolutely should not be developed, and said goodbye to many of them....
In the 80's and 90's I worked with two of the largest mushroom growers in Pennsylvania to build revenue producing operations from their previously underutilized stream of mushroom growing substrate. Both operations were producing 5000+ cubic yards per week of compost for the production of agaricus bisporus, and I also had access to the countries largest stream of compost from organic mushroom production, primarily of exotics. I spent lots of research time understanding and overcoming the particular issues with using this material as a horticultural growing media. I also spent quite a bit of time researching and developing mushroom compost as the organic fraction in green roof media.
I have worked for 30 years as a consultant to farming operations to design and develop on-farm composting at appropriate scale and technology.
I have worked since 1980 in a parallel career as a general contractor, designing and building homes and doing major renovations to existing buildings.
When I first moved to Vermont I spent 2 years at Intervale Compost where I was tragically introduced to Act 250 State Land Use Permit and Vermont politics surrounding composting and Aboriginal Burial Grounds.
I worked for 5 years with Filtrexx International, a purveyor of compost filter socks, providing support to Filtrexx Installers, doing education and trainings, and assisting in research on horticultural and agricultural applications of compost socks.

I was on the Board of Directors of Yestermorrow Design Build School for 9 years and still teach there periodically.
I have killed thousands of nut tree seedling in no time at all in the quest for Zone 4 hardiness.
Recently engaged as the Pennsylvania Farm Show Nut judge.
Hoping to retire into full time farming in 4 years....
I have four children, and three grandchildren.

Mailing Address
Perfect Circle Farm
1170 Airport Rd
Berlin, VT 05641
United States
Additional Contact Information
https://www.perfectcircle.farm
Educational Background
Phd in Thermobiological Dymanics