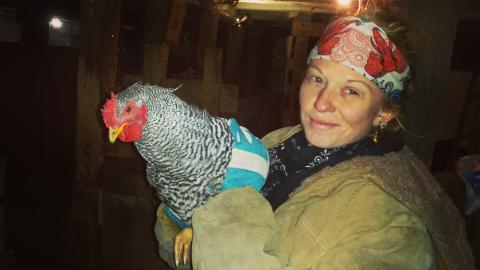 Member for
1 year 5 months
Bio
Advertiser and farmer.
In another life I was a harvesting and selling bivalves, bait, and blue claws in Atlantic City and Brigantine by day, and marketing restaurants, nightclubs, stripclubs, and bars by night. (Think canvassing on the boardwalk to drunks, and posting on social media. Not "PROMOTER" glamorous.

Mailing Address
Hunter Gatherr
150 Trenton rd
Hulmeville , PA 19047
United States
Volunteer Background
Farmer and advertiser, based in Lower Bucks County.
Favorite Crops & Least Favorite Crops
I love growing cucumbers, potatoes, broccoli, and SQUASH!

There is nothing like the discovery element of growing potatoes in tires!
I have been heart broken by all 3 of my favorite vegetables....
Our broccoli was just COVERED in unemployed freeloaders, and despite my never ending love for my squash, it is heart breaking to get 2 harvests, and know that some murderous larva has just carved its way out.
Growing Experience
Growing food
Starting seeds
Growing perennials
Hand pollination
Seed-saving
Plant breeding
Other
Time Commitment
Over 10 hrs
Space Available
Really big field (5+ acres)
Soil Details
We amend and work any soil we use on the property depending upon the plant requirements.
Growing Location Descriptors
Neighbors' Crops (within 1/4 mile)
NoNE
Neighbors' crops (within 1 mile)
NoNE
Possible GMOs in the neighborhood...
Other relevant information
I believe that hand pollination counts as GENETIC MODIFICATION, but I am wrong a lot.