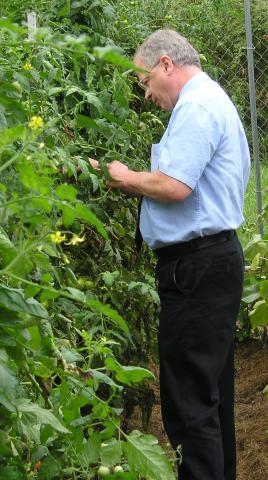 Member for
1 year 4 months
Volunteer Background
Retired Science/Computer teacher
PSU Master Gardener in Fulton County PA (zone 7), and also work closely with Franklin County PA. I train new master gardeners in 3 counties, and teach several gardening classes, chiefly about vegetables. I have a large, successful, fruit and vegetable garden with challenging microclimate and soil conditions.
I'm a strong proponent of no-till gardening.
Favorite Crops & Least Favorite Crops
Tomatoes, peppers, eggplants, squash, asparagus, garlic, leeks, radishes, lettuce, cabbage, broccoli, celery, potatoes, sweet potatoes, corn, cereal rye, blueberries, raspberries, strawberries, cranberries, rhubarb, horseradish, peas, and beans do swimmingly.
Melons don't like the cool evenings and short growing season. Upland rice grows well, but doesn't have enough time to mature. Okra does ok, but would like more heat. Onions do ok, but not great. Cucumbers used to do very well, but lately succumb early to mildew. Brussels sprouts are lackluster here (but do very well in other gardens I help manage).
My Salavatsky pomegranate has survived several winters (with help) but hasn't fruited yet. The currants, gooseberries and honeyberries would like better drained soil (raised beds are planned).
Fruit trees bear sporadically due to frequent late spring frosts.
Growing Experience
Growing food
Starting seeds
Growing perennials
Seed-saving
Space Available
Kitchen-garden's worth (41 to 100 sq. ft)
Soil Details
Two soil types:
1. Low, poorly drained (main garden area)
2. Steep, shallow, poor water retention

I have access to two other gardens (teaching/demo gardens) across two counties, both in well-drained limestone soils.
Growing Location Descriptors
Neighbors' Crops (within 1/4 mile)
A few small vegetable gardens.
Neighbors' crops (within 1 mile)
Small 70 acre farm a little more than a 1/4 mile away. Currently unaware of what they grow. Not visible from road. GMOs seem likely. Can check if needed.
Details
Numerous small farms within 5 miles. Likelyhood of GMOs seems high.
Other relevant information
Terrible deer problem - entire growing area is fenced.
Occasional groundhog problem - easily remedied.
Heavy downey mildew on grapes and cukes.
Lots of slugs.