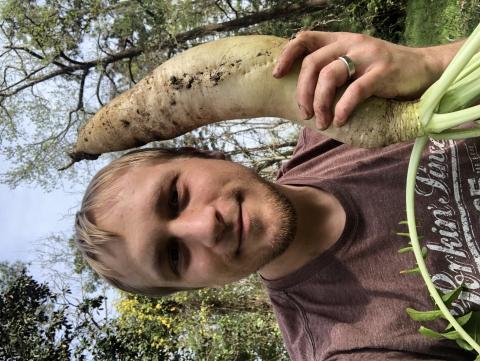 Full Name
Jonathon Hornock
Member for
1 year 4 months
Volunteer Background
Very interested in adapting varieties to the scorching hot and humid southeast. Summer is the toughest time for crop growing here. I've been struggling with nematodes that prefer my tomato and sweet pepper roots, experimenting with Sunn Hemp and nitro radish, as well as 'nematocidal' marigolds from sow true seed.
Favorite Crops & Least Favorite Crops
Like: tomato, corn, okra, watermelon, squash, muskmelon, lettuce, peanut, amaranth, peppers, kale, collards, beans, strawberry, blueberry, blackberry, tomatillo, apples, peaches, pears, carrot, potato, sweet potato, mushrooms, herbals

Dislike: cucumbers (I grow them because my wife loves them)
Growing Experience
Growing food
Starting seeds
Growing perennials
Hand pollination
Seed-saving
Plant breeding
Space Available
Big backyard (2501 - 10,000 sq. ft)
Soil Details
Orangeburg Sandy Loam over red clay.
North central Leon County, Florida.
Red Hills area of the Southeast.
My land contains a natural spring, and slopes about 50' over 2 acres, lots of microclimates and a wide variety of soil conditions.
Growing Location Descriptors
Neighbors' Crops (within 1/4 mile)
Tomato, collards, muscadine grapes
Neighbors' crops (within 1 mile)
Wild muscadine grapes, wild blackberries
Possible GMOs in the neighborhood...
Other relevant information
2 acres of Karst topography with a natural spring in the middle. One acre is moist year round with an old growth (80+ years) magnolia, beech, oak hardwood mix and wildlife habitat. The other acre is mixed with meadow, vegetable garden beds, perennial fruits and flowers, azalea, pines, and weedy-grass lawn.