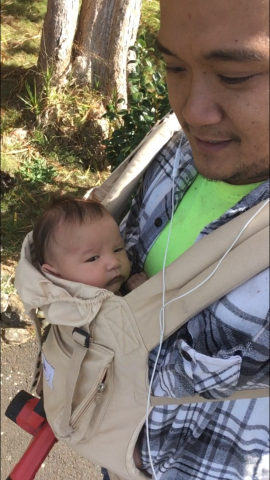 Member for
6 months 2 weeks
Volunteer Background
I am a 32 year old father of 1. Grew up in Maui ,Hawaii and ever since I could remember ,grew up with the dirtiest of hands. My son who is my inspiration will probably be the same 😬! Grew up with my grandma and grandpa house with my parents. Who from the Philippines . Grew all there food. And here to this day still do as much as they can from green wing beans to their own goat meat. Grew up helping my grandpa and grandma on there 2 acre farm. Helping them maintain the area by weeding,harvesting , feeding the goats honey oats , and planting , did my fair share . I fell in love with watching plants and the things we eat, grow! I for one, do not like the idea of buying anything ,that can be grown yourself. Me being a graduate of culinary at university of Hawaii with my fiancé is another reason why I started growing our greens and perrenial plants . Recently just had a kid and started my new garden at a new place we have just moved to . Living in a paradise like this I have grown almost everything from green beans to marijuana for medicinal reasons . Right now I am just growing salad greens . A nice variety. Glad to be a part of the team!
Favorite Crops & Least Favorite Crops
Favorite crops to grow are basically anything but black pepper . I dunno what it is, but they always dies on me . I love growing brassicas, any greens we eat in our salad every night. Tomatoes, tubers, jerusalems, yacon, vining plants , tumeric,medicinal herbs,Madagascar spinach, love growing vining plants like cucumbers or squash . Just gotta ask the wife first lol really wanna try growing a sea kale or better yet a daubentons kale. Really haven't had any problem growing anything in my days .
Growing Experience
Growing food
Starting seeds
Growing perennials
Hand pollination
Seed-saving
Plant breeding
Other
Space Available
Big backyard (2501 - 10,000 sq. ft)
Soil Details
I grow in almost straight compost in garden beds and pots . Just finished prepping this area in the ground that will be raised like a garden bed . Just filled it with compost and all natural soil amendments . The compost I grow in is compost from under a macadamia nut tree by our house . It consist of a lot of broken down leaves , hulls of nuts , a ton of mycelium and microbes in this soil I can see just by hitting the compost with my shovel all this white veins start showing.it is ready and broken down. Recently found it late last year when I was weed eating the yard. The tree is on the other side of the fence on a protea flower farm. It has been composting under it for as long as I can remember . Just started growing in it and my carrots that have been growing in the soil I used before I discovered this compost , is smaller than the ones I'm growing in this compost and I started them two months earlier ! I now use a 2 part compost to one part worm castings I make myself in a bin I made of old cedar shutters. They're thriving on my garden scraps and this comfrey I grow strictly for the worms. I also throw some humic acids, azomite, some blood meal, and feather meal in mix. Tropical zone . Just have trouble growing grapes they don't grow big only stay small and sour . My muscadine plant loves the heat though and thrives with regular size muscadine grapes . Sun all year round 58 degrees every morning, 80-85ish degrees during day. In winter it does get to 49 degrees in morning and 85ish degrees during day . We have no danger of winter or frost . Aloha and mahalo
Growing Location Descriptors
Neighbors' Crops (within 1/4 mile)
Marijuana and marijuana
Neighbors' crops (within 1 mile)
Marijuana and a lot of persimmon
Possible GMOs in the neighborhood...
Details
I have no gmos near me .
Other relevant information
Used to have deer and pigs but were all fenced in now . No wild animals or pests but the normal bugs and insects here .
Other
Like to graft fruit trees